Advertise Your Business on BusinessSeek.biz BizAds
About BizAds
Target your ads by category and connect to potential buyers looking for products or services that you offer.
BusinessSeek.biz provides targeted ads to meet any budget.
Manage single or multiple campaigns directly from your account at anytime.
To Get Started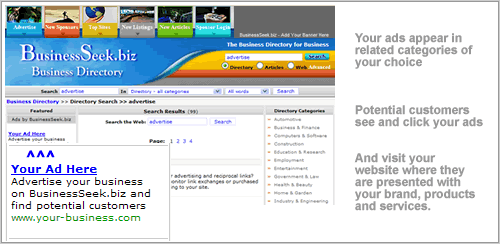 How It Works
You create ads and select a category or categories that relate to your business,
Your ads run on BusinessSeek.biz in your related category where potential customers are already viewing and who are interested in your industry,
You attract new business by people clicking on your ad and visiting your website to learn more about what your company offers,
It's fast and easy to set-up, and ads run immediately. Feel free to Contact Us if you need any assistance.
Earn Account Credit
Refer new advertisers to BusinessSeek.biz BizAds and earn a percentage of the money they spend.
To Get Started Now